Glen Helen Amphitheater (formerly San Manuel Amphitheater)
It's the Hiphop event you've all been waiting for! The 2017 How The West Was Won IS BACK and with a killer line-up to keep the crowd pumping! That's right, the one and only Snoop Dogg will be headlining the show…. bringing with him on the line-up is; E-40, Mack 10. Too Short & Tha Dogg Pound – catch all of this LIVE at the San Manuel Amphitheater on Saturday 30th September 2017! Tickets on sale NOW!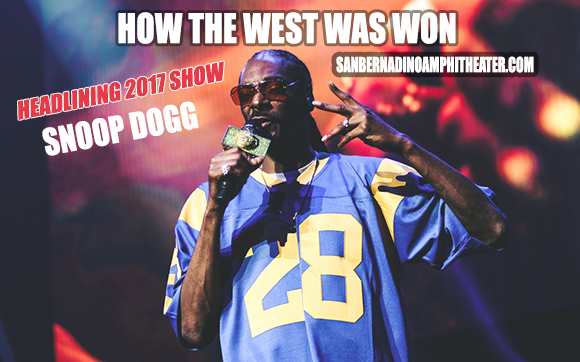 Snoop hardly needs an introduction as one of biggest acts on the Hiphop music scene! Roaming from California he brings the chilled vibes with his chart topping hits! Discovered by the one and only Dr Dre – Snoop Doggy Dogg has since powered to the top of his game and continued to stay there with twenty-three million albums in the United States and thirty-five million albums worldwide!! It's hard to find someone who doesn't know his name.
Tracks such as; "What's My Name?" and "Gin & Juice" – he has been certified double platinum!