San Manuel Amphitheater | San Bernardino, CA
Accompanied by mascot Eddie and with support from Ghost, legendary metal giants Iron Maiden are returning for a 2017 world tour! With 14 sold-out shows in Canada and the US followed by no less than 58 concerts in 34 countries worldwide, on Saturday July 1st, Iron Maiden are set to rock the San Manuel Ampitheater – DON'T MISS IT!!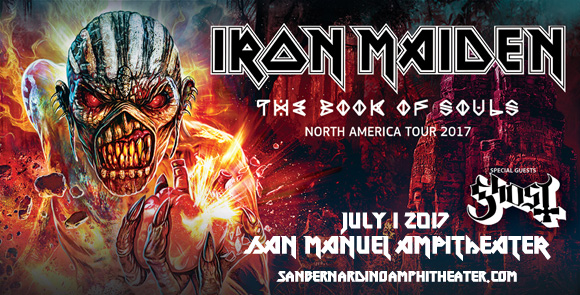 Most famed for their wild, energetic and over-the-top stage shows, with the special appeal of the appearance of their animated mascot Eddie, Iron Maiden promise a live show unlike any other. The performance will feature everything from incredible light and sound to Maya and Eddie themed animatronics. When it comes to live shows, Iron Maiden go all-out. To their North American fans they will be bringing a new and improved experience from their last tour. No metal fan is going to want to miss this gig – grab your tickets now!