San Manuel Amphitheater | San Bernardino, CA
Get exited, ladies and gentlemen, the most exciting BRAND NEW music festival is back for what promises to be a colossal second year! From the creators of the Warped festical, the It's Not Dead Fest comes to the San Manuel Amphitheater on Saturday 26th August 2017 to give you the very best in punk, ska punk and punk rock!! What are you waiting for??? Get your tickets to attend this epic event NOW!!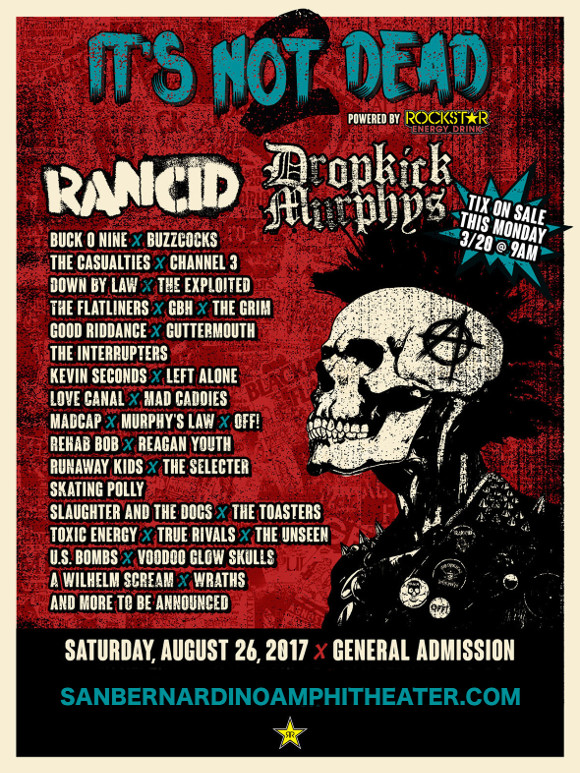 Organised by Kevin Lyman of Warped, the festival last year featured three stages, a skate and BMX half-pipe ramp, and an artwork showcase! Headlining the event this year are possibly two of the biggest acts in punk today; Dropkick Murphys and Rancid!! Founded by Operation Ivy members Tim Armstrong and Matt Freeman, Rancid are widely credited alongside bands like Green Day and The Offspring for reviving mainstream interest in punk in the 90s. Founding their own independent label Hellcat Records in 1997, they soon signed Dropkick Murphys, and the rest is written in punk rock history!!
Other amazing acts on the bill include Buck-O-Nine, the Buzzcocks, The Casualties, Down By Law, Channel 3 and The Exploited,The Flatliners, GBH, The Grim, Good Riddance, Guttermouth, The Interrupters, Kevin Seconds, Left Alone, Love Canal, Mad Caddies, Madcap, Murphy's Law, Off!, Rehab Bob, Reagan Youth, Runaway Kids, The Selecter, Skating Polly, Slaughter and the Dogs, The Toasters, Toxic Energy, True Rivals, The Unseen, U.S. Bombs, Voodoo Glow Skulls, A Wilhelm Scream, Wraths. With loads more still to be announced, this promises to be the biggest event in punk, ska and hardcore EVER!
Don't miss out – get your tickets today!!!