Glen Helen Amphitheater (formerly San Manuel Amphitheater)
There's nothing better than seeing your favorite artist take to the live stage…. so if you love Lynyrd Skynyrd then be sure to head on down for Saturday 26th May 2018! The legendary rockers Lynyrd Skynyrd will be bringing all of their classics to the stage FOR THE LAST TIME, are you ready?!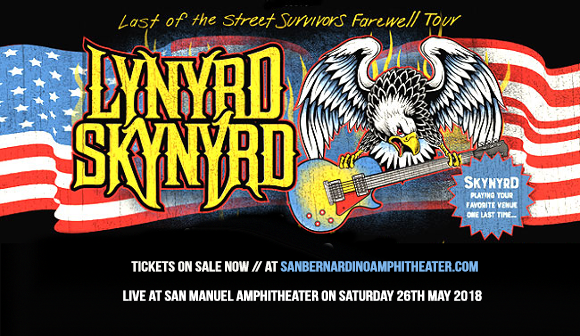 The American rock band, Lynyrd Skynyrd were one of the biggest bands during the 1970's as part of the southern rock movement. Hailing from Florida, they formed their long-standing group in 1964 and the rest is truly history! They very quickly gained worldwide success for their live performances and for their greatest, most popular anthems such as; "Sweet Home Alabama" and "Free Bird". Through their first period of time together and when they were at their peak, Lynyrd Skynyrd's members were Ronnie Van Zant and Steve Gaines, and backup singer Cassie Gaines, but with a tragic airplane crash in 1977, they passed away and this of course put an abrupt end to the 1970s era of the band.
It took 17 years but they returned in 1987, first of all as a reunion with the remaining members and a few extras Johnny Van Zant, the younger brother of Ronnie Van Zant. From this day on they continued to travel and take to the stages.
To this day, Lynyrd Skynyrd has 28 million records in the United States alone. And back in 2006 they were completely noted for their successful career and were inducted into the Rock and Roll Hall of Fame on March 13.