Glen Helen Amphitheater (formerly San Manuel Amphitheater)
Heavy metal fans, get ready for the experience of a lifetime. After a one-year hiatus, Slipknot have returned, and they're really making their presence felt. With the announcement of an all-new album scheduled for release this year comes the Knotfest Roadshow: an epic touring metal mini-fest featuring massive names Volbeat, Gojira and Behemoth in addition to Slipknot as headliner!! They're coming to the Glen Helen Amphitheater on Saturday 27th July 2019 – be there! Hit the "Buy Tickets," button and get yours while they last!!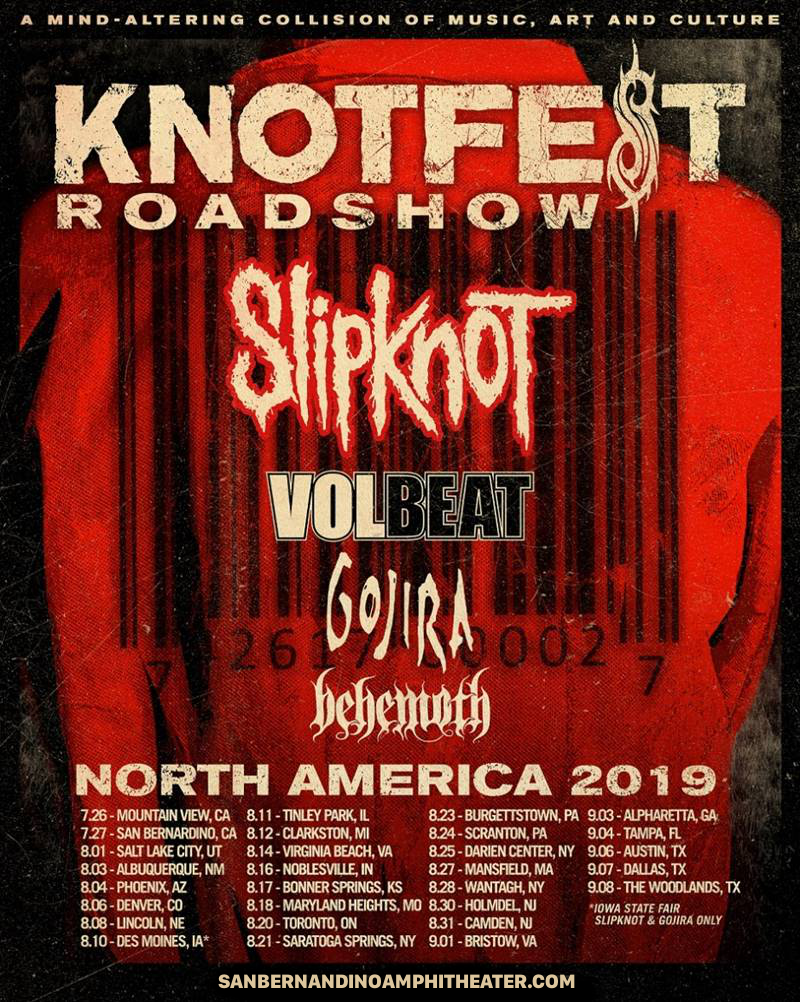 Slipknot have just released a new single, the killer track "All Out Life." However, the song, described as "ferocious," by Metal Hammer, is only the beginning. Slipknot have told fans to expect an extreme record, with dark sounds reminiscent of their heaviest album "Iowa," regarded by many fans and critics alike as one of the band's best.
Corey Taylor explained in an interview that his mental health had played a large part in defining the sound of the album "All I was doing was giving and I found myself absolutely, completely tapped," he said." You could see it in my skin. You could see it in my eyes. That's basically the journey I'm going to take people on this album… show them what happens to depression when you have no chemicals to fall back on. It's a pretty dark ride."
Are you ready to experience the darkest side of Slipknot yourself live?? Then don't miss out – get your tickets NOW while you still have the chance!